YOW! World of Mobile Development & the Internet of Things [Melbourne]
Other IoT Events
Event details
https://www.eventbrite.com.au/e/yow-connected-2017-melbourne-sept-21-22-2017-tickets-32796629602?aff=es2
World of Mobile Development & the Internet of Things: When everything is Connected
Melbourne, 21 - 22 September 2017
YOW! Connected is a two day Conference exploring the world of Mobile development and the Internet of Things (IoT). Get unbiased and technically rich talks on topics that include include native development for iOS and Android, the developing market for the IoT, UX & design, back end development and the review of several business case studies.
YOW! Connected provides an opportunity for Australian Developers to learn from local thought leaders and specially invited international experts through the sharing of experiences developing mobile solutions and devices for the connected world.
YOW! Connected Call for Presentation is Now Open!
Now is your chance to share your knowledge and experience with you peers while gaining international exposure. Submit your proposal by July 16th!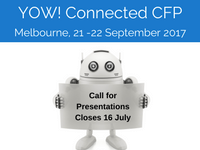 Last year the event was a fantastic success. We expect this year to be our biggest yet, with an impressive line up of speakers currently being confirmed and an exciting list of Mobile Development topics currently being reviewed. 
Check out YOW! Connected 2016 Videos | 2016 Photos!
ALSO COMING SOON!
YOW! LAMBDA JAM
Sydney - 8-9 May 2017
It's Sydney's turn to feel the Lambda Jam with this event being held there for the first time. This event is perfect for those that want to ratchet up their Functional Programming skills. Improve your skills in languages like Clojure, Scala, Erlang, Haskell, or F# at YOW! Lambda Jam.
YOW! DATA
Sydney - 18-19 September 2017
YOW! Data returns for its 2nd year in Sydney exploring data driven technology and applications. Call for Presentation are Now Open for YOW! Data - check it out!
YOW! 2017 CONFERENCE & WORKSHOPS
The dates are now confirmed for our signature event and work has begun on securing another round of great speakers. Melbourne 30 November - 1 December | Brisbane 4-5 December | Sydney 7-8 December
Group tickets and Sponsorship
Please email info@yowconference.com if you'd like to purchase group tickets. 
Transfer, Cancellation and Refunds
In the event that you are unable to attend, you may send another person to attend in your place provided you inform YOW! organisers of the change not less than 72 hours prior to the workshop. Please see our full terms and conditions.
For more information, visit yowconference.com.au or contact info@yowconference.com